Sessions: Day 1
Thursday, 1st of June
---
Introduction and Prayer
06.30 AM (CDT – USA) / 12.30 PM (BST – London) / 9.30 PM (AEST – Australia)
---
Panel: "Pioneering Work in Digital Worlds"
6.45 AM (CDT – USA) / 12.45 PM (BST – London) / 9.45 PM (AEST – Australia)
Chair: Ilona Nord
Panelists: Rosy Russo, Erkki Sutinen & Kike Delgado
Rosy Russo
Founder of the association Parole O_Stili and the communication agency SpazioUAU, Rosy Russo is also a creative talent, communication consultant, copywriter, social media manager, and trainer. In 2016, she founded Parole O_Stili, a social awareness and educational project against hate speech and hostile communication online. Parole O_Stili is supported by a vast community of professionals and works with schools and universities, as well as associations, civic and political institutions, and companies to promote the use of non-hostile language in online and offline communication in order to activate a change in people's communication behaviors.
Dr. Erkki Sutinen
Dr. Erkki Sutinen is Professor of Computer Science (Interaction design) at the University of Turku since 2015. He moved to Namibia in 2019 to set up the first overseas campus of University of Turku, located currently at the premises of University of Namibia, in its main campus in Windhoek.
Erkki has been researching educational technology, Computing education, ICT4D, and co-design. He has supervised circa 30 PhDs and co-authored around 300 papers. As an ordained Lutheran priest, his current interests include digital theology.
Kike Delgado
Kike is a creative consultant for religious organizations, experience designer, certified in communication and compassion by XUB, India, researcher of global consumer trends and collaborator of the Dicastery of Communication.
---
Paper Session 1
8.15 AM (CDT – USA) / 2.15 PM (BST – London) / 11.15 PM (AEST – Australia)
Prophets and bridge builders. Queer pastoral influencers in the postdigital
Sabrina Müller (University of Zurich, URPP "Digital Religion(s)")
This paper discusses how queer pastors use social media to promote inclusivity and social justice in both the church and society. They act as religious influencers who challenge traditional teachings and advocate for marginalized communities. Through their activism and digital guidance, they create safe spaces for people to discuss issues of faith, gender, sexuality, and race. Queer pastors also work to shift attitudes and promote tolerance within faith communities by speaking out against discrimination and marginalization. Additionally, they champion causes such as LGBTQ+ civil rights, social justice, and racial equity, with the goal of bringing about change in various areas of society.

Identity, Paradise, and Flourishing: Digital Prophets in Aotearoa
Michael J Toy (Te Herenga Waka | Victoria University of Wellington)
One function of prophets is to paint evocative images of a future paradise. Borrowing Bonhoeffer's framing of things penultimate and ultimate, this paper explores eschatological conceptions of paradise and flourishing. Technology has its own set of values and its own teleological bend. Bonhoeffer, in Inheritance and Decay, notes that within modernity and industrial society, "Technology became an end in itself" (99). Digital technology has only accelerated the pace of technological self-replication and subsequent re-shaping of human values. My ethnographic research among Māori, Samoan, and queer Christians traces the teleological undercurrents that shape reflections on digital culture in light of identity and faith. By juxtaposing indigenous, migrant, and queer eschatologies, the nuanced contours of culture and conceptions of heaven emerge. A comparative analysis of eschatological imagination among these groups reveals the tension between ties to land, place, and bodies in a digital world with tenuous ties to material Things (Han 2022). I argue that contemporary, enculturated eschatological reflection can operate prophetically by disrupting the self-serving teleology inherent in digital culture. Eschatological reflection brings into focus the relationship between things penultimate and ultimate, allowing individuals and communities to gauge and negotiate their own adaption, adoption, or abandonment of digital technologies (Kaa 2012).
---
Paper Session 2
9.30 AM (CDT – USA) / 3.30 PM (BST – London) / 12.30 AM (AEST – Australia)
Prophetic critique and Digital Theology. Exploring the potential of digital communication to make the voice of the least heard
Florian Höhne (Humboldt-Universität zu Berlin)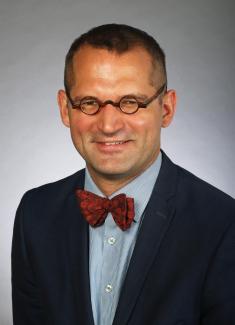 In the traditions of Christian communication via mass media, making the voice of the least heard has been seen as one important task of christian engagement with media. The life and work of Robert Geisendörfer exemplifies this; Christian jouranlists have told the stories of people, that would not have been publically visible otherwise. My paper will explore in how far this task can serve as one basic orientation in and for Digital Theology.

In the course of this exploration, I will specify the basic orientation towards making the voice of the least heard ethically. In particular, I will clarify who "the least" are and what the task of making their voice heard involves. Then, this orientiation will be reflected in light of the criticism of advocacy in postcolonial studies in order to reformulate the orientation: In how far and where is the attempt to make the voice of the least heard itself a problematic act of power that subverts its own emancipative goals?
On this background, I will discuss how digital transformations improves or worsens the chances of the least to be heard. I will suggest to understand this very discussion as one important task of digital theology that is appicable not only to digital communications in church and society, but also to the digital communication that theology itself is. Where the perspective of the least is seen as an important perspective in the academic discourses of digitale theology, prophetic critique is one important task of digital theology.
'Created Co-Creators' and Thick Public Theology
Melanie Dzugan (Fuller Theological Seminary)
The posthumanist cyborg is commonly developed by Christian theologians in conversation with Philip Hefner's interpretation of the imago Dei as 'created co-creator.' Hefner's metaphor, since the 1980s, opens a door for theologians to engage with the work of secular prophets of the posthuman around the idea that "creating is who we are." While Hefner's metaphor is in many ways accurate and helpful, I argue that 'created co-creator' is limited as a contemporary paradigm of prophetic, public theological engagement in an postmodern age of big data and fake news by its 1) modernistic approach of demythologization of 2) a vague theological symbol. A public theological anthropology of today necessitates more wholistic engagements of the ethical, Scriptural, and traditional contexts of a metaphor like 'created co-creators' in order to more clearly and compellingly articulate the character of cyborgs within the context of postmodern connectivity.
---
Paper Session 3
10.45 AM (CDT – USA) / 4.45 PM (BST – London) / 01.45 AM (AEST – Australia)
Pixel Pioneers: Opportunities and Challenges of the Early Metaverse Church
Andrew Jones (The Boaz Project)
Avatar-based churches and mission projects in the metaverse are currently popular in the news.There were many prophetic pioneers who were at the beginning of these experiments in the 2000's, and before, when the word "cyberspace" was preferred over "metaverse".The Cyberchurch Symposium in London in 2009 was the first time that web pastors, authors, and metaverse practitioners from many countries and platforms (Second Life. Habbo, Club Penguin, etc) actually met together. The issues they discussed are still very relevant today and could inform the next wave of practitioners. I was present at that event. As I was present at the beginning of the Church of Fools in 2004, perhaps the world's first persistent avatar-based church that became the model for future experiments. This presentation will deal with the question of why we now need to look back at our prophetic founders to find a way forward.
The prophetic vision of 'church is the metaverse'
Simon Werrett
This paper will discuss the merits of DJ Soto's prophetic word on the church in the metaverse, although he accepts physical gatherings (onsite) will exist, the central ministry hub will be based in the metaverse. Barth defines a prophet as a person who proclaims God's kingdom and the coming of the Messiah. Kierkegaard speaks about apostles being those who are called, anointed by God and receives a mission from him. DJ Soto's mission is to the metaverse, but the mission of the church is to all, both online and onsite.
I will argue that DJ Soto prophecy is perhaps valid for those who are unable to attend an onsite location, due to illness, childcare or work commitments. The paper will outline the main difficulties with this vision 1) Digital poverty 2) Cost of devices/headset, 3) The limited access though physical computers. As technology develops the equipment may be more available, although the current trend appears to be the opposite, as newer headsets cost five times as previous ones. 4) The overriding concern is the availability of the platform for the churches to develop, the influence of Microsoft and Meta is undeniable, and Apple is in the development process. Atlspace VR was the premier platform for Churches in the metaverse, but Microsoft scrapped in March 2023, they wanted to finance other products. A few churches had used different apps, but they were more difficult to engage with and churches had to re-evaluate their ministry in the metaverse.
In conclusion, Bock and Armstrong describe the church 'as the visible reality of the Kingdom of God on earth now' and therefore the metaverse is just one facet of a multifaceted approach.
---
Socialising in the conference VR-space (Frame)
11.45 AM (CDT – USA) / 5.45 PM (BST – London) / 02.45 AM (AEST – Australia)